My recent triptych painting, "Owl in the Moonlight I", was a fun painting to create. I love the owl and wanted to do something fun with it so considering October is soon approaching, I thought something a little eerie would be appropriate. I started with the moon and worked my way out in layers of color until I got to black as I let the moon illuminate some of the skies along the way.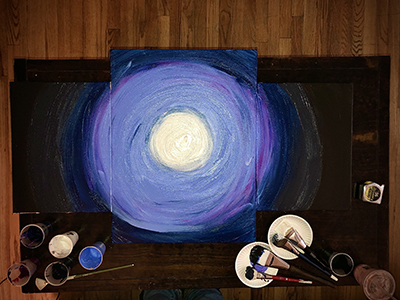 Keeping the three canvases together throughout the painting process, next, I toned down the moon a bit and gave it a little dimension with some gold tones and blended the skies a little more. Once the skies dried, I added the spooky, bare tree silhouettes and applied a little bit of charcoal gray color where the moonlight would naturally hit and illuminate the trees to give the trees a little bit of a three-dimensional feel.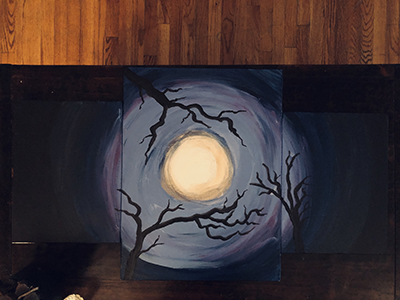 The next step before any last painting touchups for me was painting in the owl on the tree branch. Although he is mostly a silhouette, I fanned a tiny bit of charcoal gray under his neck and at the tips of his wings just to give a little bit of depth to the bird.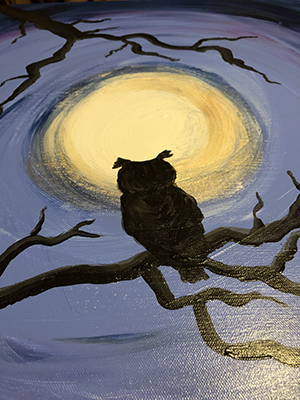 For a fun touch to the painting, I affixed little white gems to the canvas where what the stars would be located so that the painting would have a little sparkle when a person walks by it. The last step is deciding if the painting is done and if it is, signing it.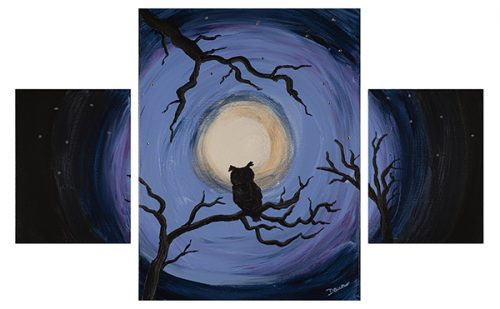 Viola!