Description
Size: 9×12″
Medium: Acrylic & Mixed Media on Canvas
Canvas Depth: 1.5″
Year Created: 2021
The latest of the artist's 9×12″ guitar artworks, Electric Guitar Candid in Green I, crops a green electric guitar down to its belly painting everything on a small canvas and then finishing it off with a real black pickguard, and gold volume and tuning knobs. A music lover with a small wall space? Meet your little conversational piece for your next get-together!
Additional Information: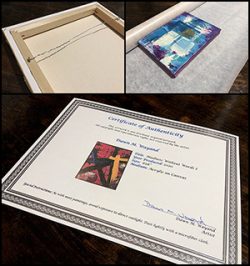 All artwork, except where noted, comes ready to hang using picture wire and screw eyes. Before shipping, all artwork is wrapped in glassine paper using gaffer tape then packed using paper, not plastic, to protect the piece from any harsh elements, mold, or mildew. Every artwork comes with an original Certificate of Authenticity signed by the artist that documents the original artwork including an image of the artwork, the artist, title, year produced, size, and medium(s) used to produce the piece.
Color Disclaimer:
PLEASE NOTE: We have done our best to represent all artwork colors accurately online, but the color calibration of computer monitors can vary considerably. These photographs are a very close representation of the actual colors of the artworks. Due to photographic reproduction limitations, exact color fidelity can be difficult to obtain. Actual samples should always be viewed before making a final decision, especially if color accuracy or matching is key to your decision.